Hey man, it's Larry Beeman man!!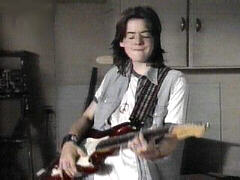 Hey man, how are you doing man? I'ts me, LArry Beeman the main axe slinger fot the Electric Shoes! Man, I tell you , it's so much fun playing rock and roll man. It's like... totally wow man. I mean, rocking out with Kevin and Mark and Larry and Neal is totally incredible. The feeling you get ehwn being onstage in front of 10 or 11 people at aparty is just the BEST. I wouldn't trade it for anything in the world!
Thanks a lot man for coming by our website man. Be sure to always check up and see when we're playing shows next, ok man???
Click here to go back to the Electric Shoes homepage