The Incredible edible MARK BERNSTEIN!!!!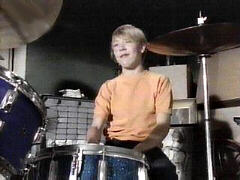 Say hey and a Hedi-Ho to all of you Mark Berstein fans out there in TV Land! Mark kicks it live when jammin with the E Shoes (as their REAL fans like to call them!)
Mark can usually be found listening to Jimi Hendrix and old Buddy Rich albums. His funtime activities include riding his bike, playing solitare, and practicing beating.....
Mark is an all around swell guy, who asked me to do up his web page for him, as he can be a little shy. I want to but his snare drum off of him, and I think this will help out. I think Mark is a swell guy, he never gets mad......unless someone asks him if he's from some TV show called "Punky Brewster"......I dunno, I'VE never heard of that show.....
Click here to go back to the Electric Shoes homepage