Electric Shoes Merchandise
First up on the Electric Shoes Merchandise page, is this limited edition ES T-shirt that was only in limited production. We made 2. One of the kids at Amy Ermin's Birthday party can be seen wearing this shirt way in the back. We have the other shirt, seen here, available for a mere $465,678,128.09.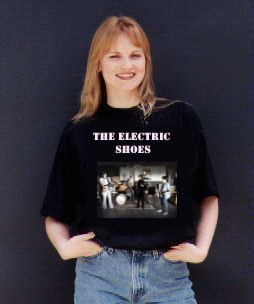 Also available is an Electric Shoes 8 track cassette that Karen won't give back to us. If you can get her to give it to you, you can keep it!